India's Unified Payment Interface (UPI) has marked a historic milestone, surpassing 10 billion transactions in a single month. This remarkable achievement underscores the surging popularity of digital payments within the nation. The National Payments Corporation of India (NPCI), the regulatory body for retail payment systems, reported that in August, UPI transactions surged beyond 10 billion, amounting to over Rs 15,760 crore (approximately $183 billion).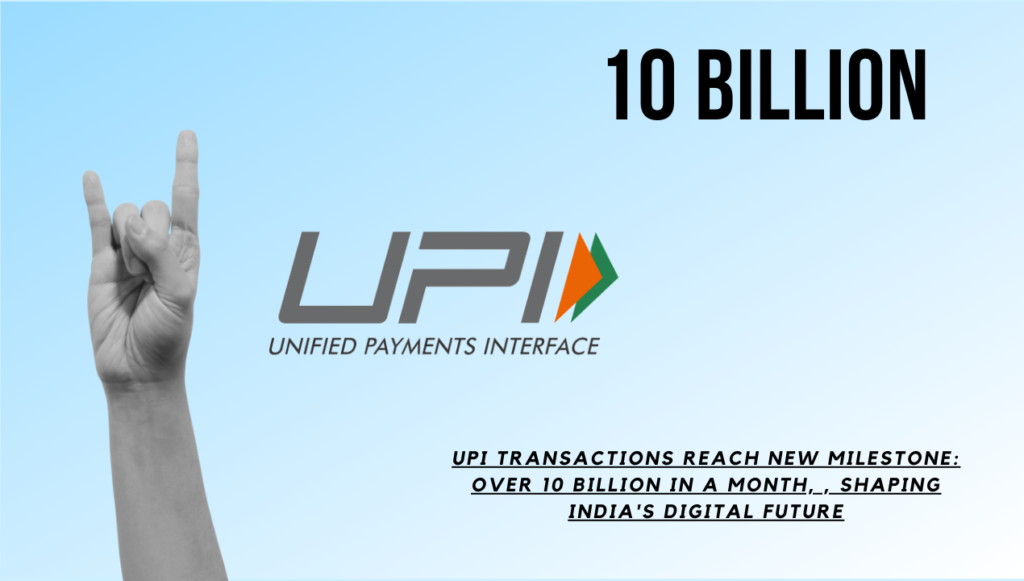 The Rise of UPI Transactions:
The journey of UPI transactions has been nothing short of extraordinary. From its roots in person-to-person transfers, UPI has evolved into a driving force for commerce in India, with merchant transactions accounting for approximately 57% of the total. This transformation is largely attributable to the widespread adoption of UPI-enabled QR codes by millions of merchants across the country.
The Power of UPI:
The success of UPI can be credited to its convenience and user-friendliness, capturing the attention of both consumers and businesses. With just a few taps on their smartphones, users can seamlessly transfer funds to any bank account. UPI apps such as PhonePe, Google Pay, Paytm, Cred, and Amazon Pay have played a pivotal role in popularizing the platform by offering incentives and rewards to users.
UPI's Impressive Growth:
The growth of UPI transactions has been meteoric. In August alone, UPI recorded a staggering 10.58 billion transactions, marking a 62% increase compared to the same period last year. This trajectory is poised to continue, with forecasts indicating that UPI transactions may reach 20 billion per month within the next 18-24 months.
The Role of Demonetization and Policy Support:
Demonetization and the COVID-19 pandemic have been catalysts in accelerating the digitization of payments in India. As cash became less accessible during demonetization, digital payment methods, including UPI, gained prominence. Government policy support, with initiatives like the BHIM app and the promotion of digital payments, has further propelled UPI's growth.
Impact on Cross-Border Transactions:
India's efforts to expand UPI beyond its borders have yielded fruitful results. The payment mode has been introduced in countries like France and Sri Lanka, facilitating cross-border transactions. This expansion opens up new opportunities for businesses and individuals, making international payments faster and more convenient.
The Future of  Transactions:
The future holds immense promise for UPI transactions. With the increasing adoption of digital payments and ongoing efforts to promote UPI domestically and internationally, the platform is poised for continued rapid growth. A report by PwC India projects that UPI transactions may reach 1 billion per day by 2026-27, constituting 90% of India's retail digital payments.
The achievement of over 10 billion UPI transactions in a month underscores the transformative power of digital payments in India. UPI has revolutionized the way people transact, offering convenience, speed, and security. As the platform continues to evolve, it is destined to play a pivotal role in shaping India's digital economy. With its widespread adoption and acceptance, UPI is truly spearheading the transition towards a cashless and digital future in India.